Recent and upcoming research publications on the history of cycling
The upcoming fourth volume of Mobility in History, the 2014 Yearbook of the International Association for the History of Transport,
Traffic and Mobility (T2M), published by Berghahn, will contain a special section on ´Bicycling, Mobility, and History.´ The section consists of contributions that were first presented at the Cycling History Roundtable at the T2M Conference in Madrid, 2012: an overview by Manuel Stoffers & Anne-Katrin Ebert of the new directions in cycling historiography that were discussed at the Madrid roundtable, a critical analysis of social science studies of cycling by Harry Oosterhuis, and introductions to the cycling history and historiography of Spain (by Esther Anaya & Santiago Gorostiza), and France (by Francis Papon).
The special section can be seen as a follow-up on the historiographical overview of ´Bicycle history as transport history´that Manuel Stoffers, Harry Oosterhuis, and Peter Cox wrote for the T2M Yearbook 2011.
The special cycling section fits in a recent research trend of increasing attention for cycling. Since a few years, the number of publications in the Social Science Citation Index of which the topic is indexed as 'bicycle' or 'bicycling' is growing strongly. As the graph shows, the four years since 2008 have witnessed a sudden increase from less than one hundred to more than 200 publications per year in 2012 (the last column to the right represents the situation for the first eight months of 2013).
In historical studies there is a similar increase of interest in cycling, as the recent publication in academic journals of several´special sections´ devoted to cycling history indicates. In 2012, both the Journal of Transport History (Manchester UP) and the interdisciplinary journal of mobility studies Transfers (Berghahn) published minispecials devoted to bicycling history, presenting four to six articles each—an unprecedented number. For Transfers Ruth Oldenziel and Adri Albert de la Bruhèze edited a "Special Section on Global Cycling", containing articles on Japan (Steele), China (Rhoads), West Africa (Hahn) and Finland (Männistö-Funk). In the same year, Adri Albert de la Bruhèze and Martin Emanuel edited for the Journal of Transport History a mini special on "European Cycling", that included articles on Sweden (Emanuel, Rautio & Östlund), Germany (Ebert) and the Netherlands (Ebert, Stoffers).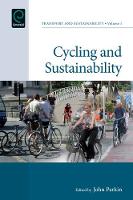 A recent multidisciplinary volume on Cycling and Sustainability (Emerald, 2012), edited by John Parkin, also contains articles with a historical perspective: a broad ranging historical comparison of Dutch and Danish bicycle cultures (Carstensen & Ebert), an overview of cycling advocacy and policy in the UK, especially since the 1970s (Aldred), and an overview of cycling policies in China since the 1980s (Haixiao).